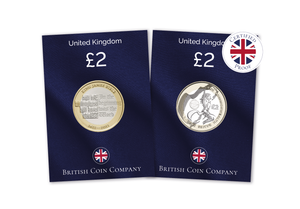 TheShoulders of Giants Coin

In 1997, the Royal Mint released a
limited issue Shoulders of Giants
two-pound proof coin, with an elaborate reverse design by Bruce Rushin, comprising four concentric circles emanating from the heart of the coin. This coin was released in silver and gold with a limited mintage of 19,978.
TheLondon Underground Coin
To celebrate the 150th Anniversary of the London Underground, in 2013, the Royal Mint released a limited issue London Underground train £2.
The reverse of this coin depicts a design by Edward Barber and Jay Osgerby, and it shows a 1967 Victoria Line Train, using texture and perspectives to reflect the light and create a sense of movement.

This coin also carries an unusual edge pattern inspired by Harry Beck's iconic Tube map. The London Underground coin is 28.40mm in diameter.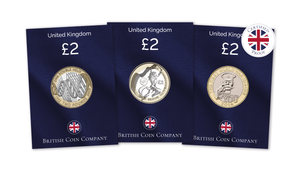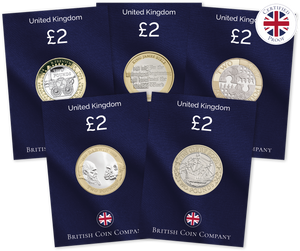 £2 Proof Coins
Many two-pound proof coins are in circulation, specially minted to showcase the highest quality and craftsmanship. Unlike regular coins intended for circulation, proof coins are primarily produced for collectors and investors.

These coins are created
using a unique minting process that involves multiple strikes on
specially polished dies with polished planchets (blank coins). The
result is a coin with exceptionally sharp details, mirrored or
frosted surfaces and a shiny appearance.

Subscribe today Your first coin FREE.
Monthly Coin Collecting FAQ