2019 A-Z Coin Collection Different?
The coin designs from 2019
may be the same as 2018 but they have a much lower circulation. For example, the 2019 World Wide Web, Yeoman Warders and Zebra Crossing 10p coins all have a mintage of just 63,000 in circulation!
In comparison to the rarest 50p in circulation - the Kew Gardens 50p with a circulating
mintage of 210,000 – and this puts into perspective how rare these 10p coins are.
Collectors who have
managed to find the Q, W, Y, Z and
R 10p coins will also be delighted to see
that these have a lower mintage than the other 21 designs from the previous year.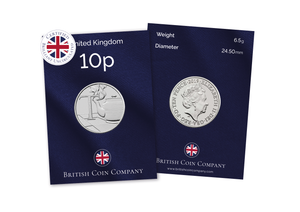 TheAlphabet of Britain 10p Coin Designs
If you want to celebrate
the best of everything uniquely British, the A-Z of Britain in 10p
coins, minted in 2019 is a good choice. This rare coin collection has
an even lower mintage than the 2018 A-Z of Britain 10p coin collection.
While each of the 2018 dated A-Z 10p coins have the same mintage of 220,000 - in 2019, the mintages are varied among the designs.

In this collection, you have the opportunity to collect 26
commemorative 10p coins, showcasing the best
of British culture. Each unique 10p coin has a letter engraving
referencing a relevant British pastime that makes the British culture
so iconic.

StartCollecting The 2019 A-Z of Great Britain Coins
A - for Angel of the North
B - for Bond
C - for Cricket
D - for Double Decker Bus
E - for English Breakfast
F - for Fish and Chips
G - for Greenwich Mean Time
H - for Houses of Parliament
I - for Ice Cream
J - for Jubilee
K - for King Arthur
L - for the Loch Ness Monster
M - for Mackintosh
N - for the National Health Service
O - for Oak Tree
P - for Post Box
Q - for Queuing
R - for Robin
S - for Stonehenge
T - for Teapot
U - for Union Jack
V - for Villages
W - for World Wide Web
X - Marks the Spot
Y - for Yeoman Warder
Z - for Zebra Crossing
It is recommended to
obtain the A-Z 10p British coins
while available as some of the coins may have higher demand than
others.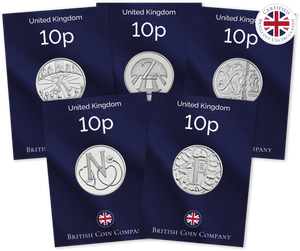 Start your subscription today Your first coin FREE.
Monthly Coin Collecting FAQ