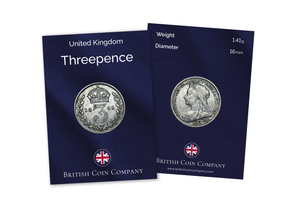 Mixed Silver Threepence
Mixed-date silver threepence coins
include coins from various years and dates. They may be minted by different countries or regions, and have different design variations,
ensuring they are historically significant. These silver threepence coins weigh 1.414g and have a diameter of 16mm. The value of the silver threepence coins can vary widely based on different factors such as rarity, condition and how in demand they are amongst collectors.
Pre-Decimal Silver Coins
Many pre-decimal silver coins are made with significant silver content, giving them intrinsic value in addition to its face value.

Silver coins that have been minted for use in everyday transactions include threepence, sixpence, shillings, florins, half crowns, crowns and double florins . These coins are available in different sizes, weights and silver content.

Coins dated before 1920 contained 92.5% silver and from 1920 to 1946, they contained 50% silver. The coins produced pre-1920 are worth almost double what the coins from 1920-1946 are worth in value. New-condition coins are worth considerably more, while worn coins in poor condition will weigh less and contain slightly less silver.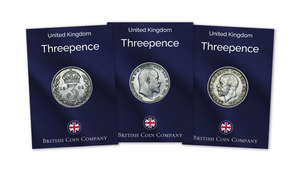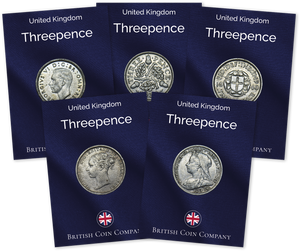 George VI Silver Threepence
During George VI's reign from 1936 to 1952, several threepence coins were minted. They typically featured a portrait of King George VI on the obverse (front) and a design on the reverse, that varied from year to year.

The 1938 Silver George VI Threepence
has an image of George VI facing left on the obverse side with the
inscription: 'GEORGIVS VI D G BR OMN REX', and the reverse design
consists of a shield on a rose with an inscription that reads: "FID
DEF IND IMP 19 38 THREE PENCE". These coins were part of the
pre-decimal currency system in the UK, where there were 12 pence in a
shilling and 20 shillings in a pound.

Subscribe today Your first coin FREE.
Monthly Coin Collecting FAQ