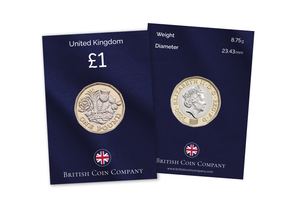 TheRose and Oak Coin
As part of a floral set
launched in 2013, the Rose and Oak coin is pretty unusual, with around 5,270,000 in circulation. It is representative of England.

Other coins in this floral set include the Leek and Daffodil that represents Wales, along with the Thistle and Bluebell for Scotland and the Flax and Shamrock to represent Northern Ireland – the latter of which were released in 2014.

TheEdinburgh One Pound Coin
One of the rarest
one-pound coins is the Edinburgh £1, which has a mintage of only 935,000 in circulation.

This coin was released in
2011 and featured The Edinburgh Coat of Arms as the focal badge among the other three cities' badges. The edge inscription has
Edinburgh's motto, 'Nisi Dominus Frustra' or 'It is vain without the Lord'.

The Edinburgh coin was minted as part of a one-pound coin series paying tribute to the four capital cities of the UK, the others including Belfast, London, and Cardiff.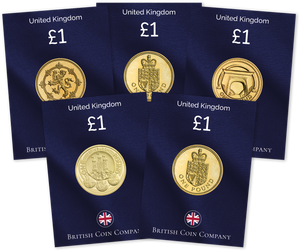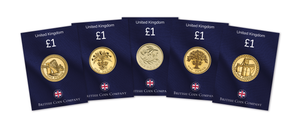 One Pound CirculatedCoins
The one-pound coin has been in circulation since April 1983, when it replaced the Bank of England £1 note which was later removed from circulation in 1988.
The pound has mainly been circulated as a round-shaped coin, yet the current design introduced in March 2017 is now a 12-sided coin featuring a Nations of the Crown design on the reverse.

You now have the chance to collect up to 46 circulated
£1 coins with a wide range of designs from 1983 - 2022.

Subscribe today Your first coin FREE.
Monthly Coin Collecting FAQ