Queen Elizabeth II
The late Queen Elizabeth II had a brass threepence in 1953 up until 1967 when
pre-decimal coins were withdrawn. The coin featured a crowned portcullis gate on the reverse - a popular symbol since Tudor times.

On the obverse (front side), is
the laureate bust of a young Elizabeth II, facing right. This coin has a diameter of 27.74mm and a weight of 6.8g. Some of these Queen Elizabeth II coin designs are rarer than others; in particular both the 1946 and 1949 are the rarest to find.
Brass Three Pence Collection 1937 To 1970
Brass threepence coins otherwise known as "thruppence" or "threepenny bits" were around before currency was decimalised in 1970, and various designs and compositions were used. In post-decimalised currency, threepence is worth a quarter of a shilling, or three pence in today's money.

Threepence coins made of brass have been used throughout different periods of history and most recently in the 20th century, there have been a number of King George V, King George VI and Elizabeth II designs to look for.

Threepence coins are twelve sided and the design has actually helped to shape the modern one-pound coin.

Here are some of the most significant brass three-pence coins to look for from this time…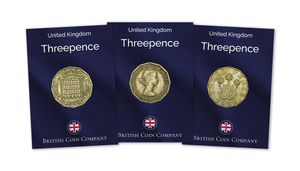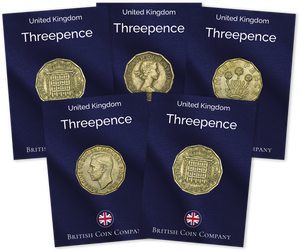 George VI
The George VI brass threepence was introduced in 1937 and
features a portrait of George VI facing left. The reverse design has
a thrift plant with three heads, with the name of the denomination
above, "THREE PENCE," and the date below. This coin has a diameter of 21.8mm and a weight of 6.8g.

There is a rare 1946 threepence from this George VI era worth looking for. This rare threepence has a diameter of 21mm and weighs 6.8 grams. It also has a relatively low mintage of just 620, 734 meaning that it's worth significantly more than its face value.

In 1949, a threepence George VI nickel-brass coin was released showing a blossoming thrift plant with three blooms on the reverse. Around the main design are the words, 'THREE PENCE', and below is the date. The obverse side features the bare head of King George VI facing left, with the legend: 'GEORGIVS VI D:G:BR:OMN:REX FIDEI DEF.'

This coin is worth looking out for as only 464,000 of these were minted making it a scarcity and uncommon for the period. The weight of this twelve-sided threepence coin is 6.8 grams and 21mm in diameter.
Subscribe today Your first coin FREE.
Monthly Coin Collecting FAQ