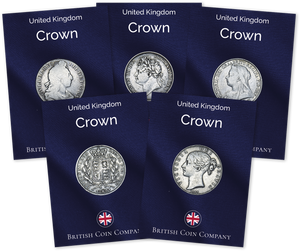 The Crown Type Collection
British Crown Coins are large denomination coins that typically have a face value of five
shillings or 25 pence, although their face value may have changed over the years due to currency reforms.
The term "crown" refers to the coin's size and value but doesn't necessarily depict a crown on the coin itself. Crown coins are often struck to commemorate significant events such as royal weddings, jubilees, and other important milestones. They also tend to have intricate designs and are often made from precious metals, making them popular among collectors and enthusiasts.
Crowns were issued regularly for over 350 years before the denomination fell out of use
in the late nineteenth century. Many of them feature designs such as wreaths and rocking horses.
George V Wreath Crowns
Sometimes known as Christmas Crowns, George V Silver Crowns were not issued for general circulation but a small number were produced around Christmas time to give as presents between 1927 - 1936.

A special commemorative crown was also released in 1935 to celebrate St George's Silver Jubilee. This Silver Jubilee crown was struck mainly in silver, but a very small number were produced in gold.

Another to look for is theb 1927 George V Proof Wreath Coin which is a rare find with only 15,030 of these coins being struck to proof standard. The Wreath coin design by Kruger Gray features a large crown in the middle, surrounded by a wreath. This coin has a weight of 28.30g and a diameter of 38.00mm.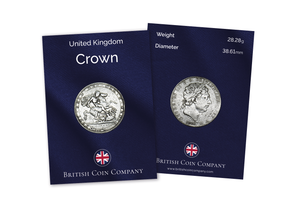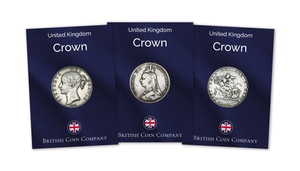 CharlesII Crown
Charles II came to the throne in 1660 and an original silver crown coin was struck to commemorate his reign. These coins bare the head of King Charles II in a long flowing wig and on the reverse side, there's a shield.

Charles II was known as the 'Merry Monarch' who restored the throne of England after the austere years of Oliver Cromwell, who executed Charles I after the English Civil War.

Under King Charles II's reign, crown coins were originally struck by hand but they were later milled using a machine.

These various silver crown coins commemorate the time period of 1660 - 1685. As crowns, these coins are available here at the Britih Coin Company . The crown coin has a weight of 28 grams and a diameter of 38.6mm.
Subscribe today Your first coin FREE.
Monthly Coin Collecting FAQ