The Brilliant Uncirculated 5p Coins
A collector or coin dealer may use Brilliant Uncirculated to describe coins with
a grade of at least 65. Brilliant Uncirculated 5p coins are made of nickel-plated steel and cupro-nickel, a mix of 75% copper and 25% nickel.
Brilliant Uncirculated coins will likely enjoy a much greater value than regular 5p coins in poor or average condition. For this reason, they are a great addition to any coin collection.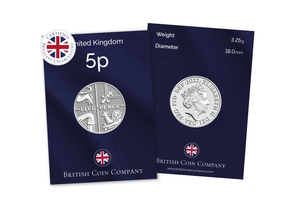 'The New Pence'
Introduced in April 1968, 5p coins were issued as a replacement for shillings in preparation for decimalisation in 1971. The 5p coin was released into circulation simultaneously with the first 10p coins.

The coin's obverse features the second crowned portrait of HM Queen Elizabeth II, designed by Arnold Machin. The coin's reverse shows The Badge of Scotland and a thistle royally crowned.
The Five Pence – Reduced Size
In 1987, a smaller 5p coin was issued, and on 27 th June 1990, the new 18.00mm 5p was introduced. The reverse side of this coin is the same as the 5p issued in 1971.
From 1990 to 1998, the obverse design shows a portrait of Her Majesty Queen II by Raphael Maklouf. From 1998 to 2008, the obverse design shows a picture of Her Majesty Queen Elizabeth II by Ian Rank-Broadley.
In 2008, the 5p coin was re-designed using Matthew Dent's Royal Shield design. The new 5p coin depicts the centre of the Royal Shield, showing the meeting point of the four quarters.
On the obverse side of the coin, from 2008 to 2015, there is the fourth portrait of Her Majesty Queen Elizabeth II by Ian Rank-Broadley. From 2015 onwards, the currency was updated to feature the fifth portrait of Her Majesty Queen Elizabeth II by Jody Clark.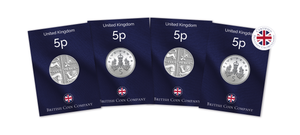 Subscribe today Your first coin FREE.
Monthly Coin Collecting FAQ