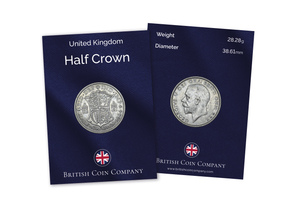 1950 Half Crown
Minted during the reign of King George V in 1950, this half crown shows a suspended shield bearing the Royal Standard with royal cypher to each side. The shield quadrants represent the UK, with three lions for England, one lion for Scotland and a harp for Northern Ireland. The 1950 Half Crown has a weight of 14.22 grams and a diameter of 32mm.

While not considered extremely rare the 1950 half crown is still seen as valuable as it was minted in lower quantities compared to other
years, making it sought after by collectors looking to complete their collections.
CoronationHalf Crown
In 1953, Queen Elizabeth II was coronated. To commemorate the event, the Royal Mint released an original Coronation Half Crown. On
the obverse side, there features an image of the young Queen Elizabeth II. While on the reverse, there's a crowned shield with the letter 'E' on the left, and 'R' to the right.

The shield quadrants represent members of the United Kindom, including three lions for England, one lion for Scotland, and a harp for Northern Ireland. Surrounding this is a legend reading 'FID DEF' above, with 'HALF CROWN' and then the date below.

Approximately 4,333,214 Coronation Half Crowns were minted worldwide, making them exceptional coin designs to add to your collection.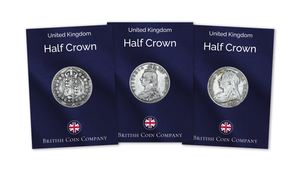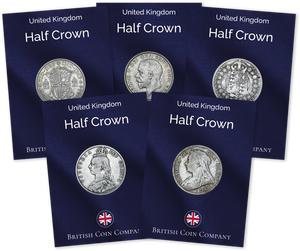 HalfCrown Collection From 1886 to 1970
The half crown was circulated from 1886 until British currency was
decimalised in 1971. The half crown was worth two shillings and
sixpence (2s 6d), the equivalent to ⅛ of a pound sterling.

Seven half-crown coins were issued over the years in the United Kingdom, and some popular ones include the George III Half Crown, released from 1760 - 1820, all the way through to the Elizabeth II Half Crown released from 1953 to 1967.

Half crowns vary in design depending on the reigning monarch. During the Victorian era, a typical half crown would feature the bust of Queen
Victoria on the obverse (front), facing left or right, depending on the specific design.

In the 20th century, half crowns featured the bust of the reigning
monarch on the obverse side, usually facing left. The coin's reverse
often included various national symbols, crests or other images
depicting the changing times.
Subscribe today Your first coin FREE.
Monthly Coin Collecting FAQ