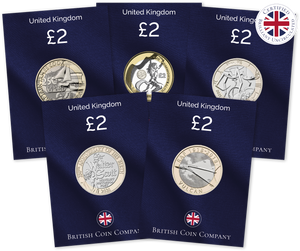 Rare £2 Coins To Look For

In 2020, a three-year series of coins celebrating Captain James Cook's Voyage of Discovery was released, with each currency chronicling a step in Captain Cook's
journey. These coins have a mintage of 50,185.

2002 Commonwealth Games Coin
Did you know there are four unique designs of the £2 brilliant uncirculated coin, all created to commemorate the 2002
Commonwealth Games? These coins are tough to come by and are worth significantly more.

Among them, the lowest mintage belongs to Ireland's coins, with just 485,000 in circulation. Wales follows closely with 588,500, while England proudly boasts a mintage of 650,500. Scotland's coins have a mintage of 771,550. These Commonwealth Games coins are 28.40mm in diameter and weigh 8g.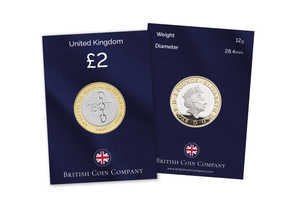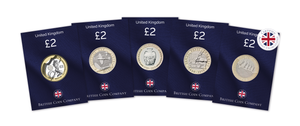 BrilliantUncirculated Coins

Brilliant Uncirculated Coins are exceptional as they are of superior quality and have a striking appearance, being produced explicitly for collectors and investors due to their distinct lustre and shine due to the way they are struck. This means they showcase intricate artwork details with no signs of wear. They are often preserved in protective packaging.

Subscribe today Your first coin FREE.
Monthly Coin Collecting FAQ