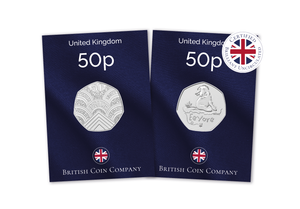 Kew Gardens
The uncirculated Kew
Gardens 50p coin is a remarkable collectable, revered for its rarity and celebrated by enthusiasts worldwide.
The reverse of this coin
features a Chinese Pagoda at Kew Gardens and was designed by Christopher Lee Burns. The obverse features the Fifth Portrait of
Queen Elizabeth II by Jody Clark.

Brilliant Uncirculated 50p Coins
Mega Brilliant
Uncirculated 50p Coins are unique because they hold a significantly
greater value than their initial worth.
"Brilliant Uncirculated" coins provide the highest of striking standards that the Royal Mint uses to produce the coin's "finish", and this can create a currency that shows a higher level of detail compared to coins minted for circulation.

Brilliant Coins are struck from hand-finished dies; however, instead of being laser-treated like proof coins, they are fed into the coin press by the machine and struck twice.

Brilliant Uncirculated 50p coins hold significant value. One of these is the Kew Gardens 50p coin, released in 2009. This coin design commemorates the 250th anniversary of the beautiful Royal Botanic Gardens.

There are many brilliant uncirculated 50p coins worth adding to your collection.

You now have the chance to collect Mega Brilliant Uncirculated 50p coins released from 1982 to 2022, showcasing a wide range of designs.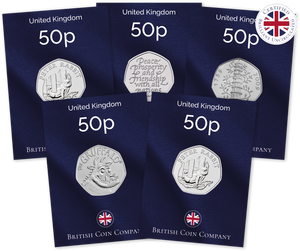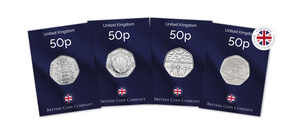 The Peter Rabbit 50pCoin
In 2017 the Royal Mint
released a particular Limited Issue Brilliant Uncirculated Peter
Rabbit 50p coin. This has a low mintage of 221, 865 making this coin a rare collectable.

In new condition, this BU Peter Rabbit 50p coin is estimated to be worth several times its set value.
Weighing 8g and measuring 27.5mm in diameter, the Peter Rabbit coin is one that collectors value due to its rarity.
Subscribe today Your first coin FREE.
Monthly Coin Collecting FAQ