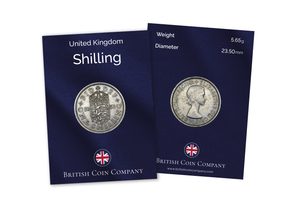 King George VI ScottishShilling
Interestingly, there's a Scottish version
of the King George VI Shilling released in 1937 at the same time as the English shillings. The reverse shows a Scottish Lion on a crown, flanked by the shields containing the flag of St Andrew and a thistle, all emblems of
Scotland. The obverse shows a portrait of King George VI by Thomas Humphrey Paget. This Scottish shilling has a mintage of 6,749,000. The diameter of this shilling is 23.6 millimetres and weighs 5.65 grams.
King George IV Shilling
This shilling from 1826 is
considered to be one of the rarest and most sought-after British
coins. It's not widely circulated and is highly prized by collectors. It has a relatively low mintage of 6,352,000, contributing to its scarcity.

The King George IV shilling was not widely circulated during this time, partly due to its higher value and limited use in everyday transactions. The coin features a crowned shield within a garter, and the shield displays the arms of the United Kingdom, featuring the various quarterings representing England, Scotland, and Ireland. The shilling design is attributed to Benedetto Pistrucci, an Italian engraver and medalist who also designed the famous St George and the Dragon design for the gold sovereign.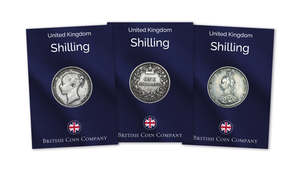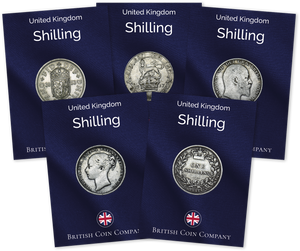 ShillingsFor Your Coin Collection
Shillings were used before currency was decimalised in 1971, when the pound was then divided into 100 new pence. After this time, shillings were discontinued, along with other pre-decimal denominations. In total, there are 20 shillings in a pound and 12 pennies in a shilling.

Several rare British shillings are in high demand amongst collectors. Some of these include the 1933 King George V Shilling, which has a lion standing on the royal crown on its reverse side. As this coin was minted due to the Great Depression, this makes the 1933 George V shilling one of the scarcer shillings to add to your collection. Here are some more worth considering...
Subscribe today Your first coin FREE.
Monthly Coin Collecting FAQ