Brilliance of the Penny
Are you searching for 1p coins in pristine condition? Brilliant Uncirculated (BU) coins are the best choice to add to your coin collection. Every year, the Royal Mint release an BU coin collection commemorating the coins of that year. These shiny one-penny coins have a high level of detail and shine and are often found in excellent condition as they've never been in circulation. They usually
have a grade of MS65 or above to be considered brilliant uncirculated coins.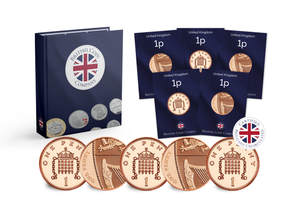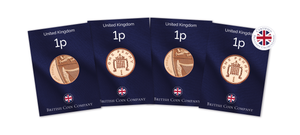 The Brilliant Uncirculated 1p Coin
The one-penny Brilliant uncirculated coin has a sharp and well-defined design, as it's produced with exceptional care using high-quality dyes and planchets that are struck with extra pressure during manufacturing. A decimal 1p coin is usually made of 97% copper, 2.5% zinc and 0.5% tin.
How Valuable Are 1p Coins?
How Valuable Are 1p Coins?
The modern 1p piece was introduced by the Royal Mint in 1971, and an incredible 1.5 billion of them were struck in the first year alone. However, tracking down the valuable Brilliant Uncirculated 1p coins can be tricky. . Some examples of rare 1p coins that are highly valuable include the 'New Penny' that was struck in 1972 as Britain moved towards decimal currency.
Another rarity is the steel 1ps that were struck in 1992. As a result of their steel core, the copper-plated steel 1p coins are magnetic, according to the Royal Mint Museum.
Subscribe today Your first coin FREE.
Monthly Coin Collecting FAQ