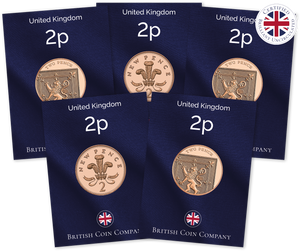 What Makes A 2p Coin?
The British 2p coin was introduced on 15 th February 1971, when the United Kingdom adopted the new decimal currency system, and the coin was brought into general circulation. The coin equals 2/100 of a pound. The 2p coin features an image of the Queen on the obverse side. The reverse
side of the coin has a design by Christopher Ironside that's been used from 1971 to 2008 – the Badge of the Prince of Wales, consisting of a plume of ostrich feathers within a coronet, above the German motto Ich Dien ("I serve"). At the bottom, written below the badge, is the numeral "2", and depending on when it was issued, either NEW PENCE if the coin was released from 1971 – 1981 or TWO PENCE (from 1982 onwards).
What Makes a Brilliant Uncirculated 2p Coin Special?
A Brilliant Uncirculated 2-pence coin has a high level of quality and finish. They are produced for collectors and specially minted to have a superior strike, lustre and overall appearance. Unlike circulation coins used in everyday transactions, Brilliant Uncirculated coins are specially handled and packaged to preserve their pristine condition.
A Brilliant Uncirculated coin is struck using polished dies and undergoes a specialised minting process to ensure high detail and sharpness. These are typically handled with gloves to prevent fingerprints or smudges from affecting their surface.
Brilliant Uncirculated coins are sought by collectors who appreciate their high- quality appearance and rarity. Finding a Brilliant Uncirculated 2p Coin in excellent condition is a desirable addition to any coin collection. At the British Coin Company, we offer Brilliant Uncirculated 2p Coins from 1982 to the present date to add to your collection.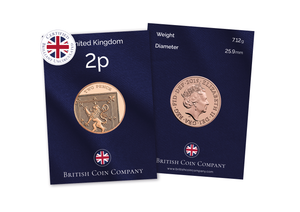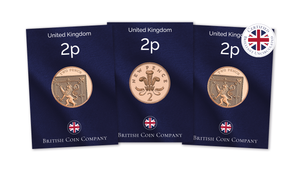 Hard To Find 2ps
All 2p coins printed between 1971 and 1981 had "new pence" printed on them, but then the writing changed to "two pence".
Nonetheless, it has come to light that in 1983, there was an incidental minting of a limited quantity of coins bearing the inscription "new pence" instead of "two pence," according to the Royal Mint. This anomaly has rendered these coins immensely valuable to collectors,
whereas the correctly inscribed pre-1983 "new pence" coins hold little comparative worth.
The 1983 New Pence 2p Coins has been seen to exchange hands for sums £900- £1500.
Subscribe today Your first coin FREE.
Monthly Coin Collecting FAQ