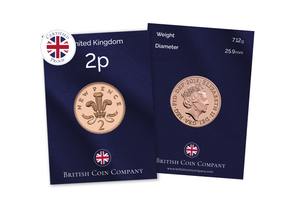 What is a Proof Coin?
Proof coins are of the highest quality among the many offerings from the Royal Mint. Their value surpasses that of the metal itself, given their status as commemorative coins. A proof coin goes through a precise process, being struck six times at the lowest speed and the lowest pressure of all three coin types to prevent any blemishes. The proof is also hand-finished and cleaned to ensure there are no imperfections before a coin is produced. Their specific treatment and extra polishing, give them a smooth and mirror-
like finish on both the reverse and obverse sides of the coin.

As collector pieces, they usually come packaged in protective capsules or
presentation cases, and they are also presented with a certificate of
authenticity.
British 2p Proof Coins: What Makes Them Rare and
Remarkable
 Are you searching for a valuable coin to add to your collection? We recommend 2 pence proof coins! While most 2 pence coins in circulation aren't considered especially valuable, there are exceptions or "error coins" that can command higher prices among collectors. Introduced in 1971 when the United Kingdom adopted a new decimal currency system, the British 2p coin features an image of the Queen on the obverse side. The reverse has a design by Christopher Ironside known as the Badge of Wales, that consists of a plume of ostrich feathers within a coronet and the number "2" below the badge. Depending on when the coin was released, the 2p coin may say along the top, 'New Pence' if released from 1971 – 1981, or 'Two Pence' if released from 1982 onwards.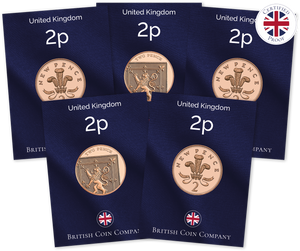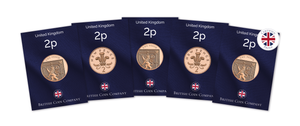 INTERESTING FACTS
Certain vintage coins, particularly those minted in specific
years with distinctive design attributes, possess greater worth on
account of their age and rarity. Notably, specific 2p coins that were
produced prior to 1982 were crafted from bronze, whereas those
minted from 1982 onwards were manufactured using copper-plated
steel. Collectors may hold a significant interest in older coins that are
well-preserved and in good condition.
Subscribe today Your first coin FREE.
Monthly Coin Collecting FAQ