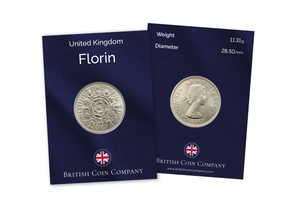 The 1951 Florin
An George VI Florin from 1951 is
considered to hold significant value and although it's considered relatively common with a mintage of 27,411,747, this florin can be worth anything from £0.10 to over £10, depending on its grade, condition, desirability and demand. This coin weighs 11.3 grams and
has a diameter of 28.5mm.

The reverse design on this 1951 florin includes the royal cypher, with 'G' and 'R' divided on either side. In the main design is encircled the legend reading, 'FID::DEF:' above, with 'Two
Shillings' and the date below. On the obverse side, the design features the bare head of King George VI facing left, with the legend, 'GEORGIVS VI D: G: BR: OMN: REX'.
TheEdward VII Florin
In 1911, new coins of George V were released with the value 'One
Florin', but the wording "Two Shillings" disappears. Even when the reverse designs changed from 1927 to 1936, the value remark remained the same. These florins have a mintage of 11,960,000. This florin has a
diameter of 28.5mm and a weight of 11.3g.

The King Edward VII era florin features
the bare head of Edward VII facing right, while on the reverse is the
helmed Britannia standing at the bow of a ship, holding a trident,
and supporting a shield. The main design is surrounded by a legend
reading.

Florins from Edward VII's reign (1902-1910) are considered collectable due to their attractive design and generally being considered quite rare.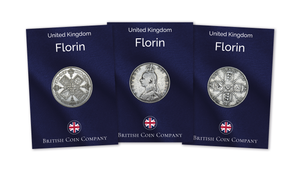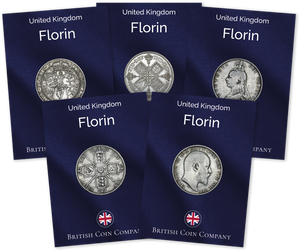 The Florin Collection
Florins are equal to two shillings or 10 pence in today's money. Introduced in 1849, the British florin was part of a currency reform under Queen Victoria's reign, under efforts to modernise the British currency
system.
The Edward VII Florin from 1906 is one of the rarest florins. Struck in
sterling silver, the florin has an obverse showing Edward VII's
portrait by George William de Saulles. The reverse features a
portrait of Britannia. This florin weighs 11.31g and has a diameter
of 28.30mm. It's also considered less common compared to other
florins of that period.
Subscribe today Your first coin FREE.
Monthly Coin Collecting FAQ