Kew Gardens 50p
To celebrate the 250th Anniversary of Kew Gardens, in 2009,
The reverse of this coin featured a Chinese Pagoda at Kew Gardens and was designed by Christopher Lee Burns. The obverse features the Fifth Portrait of Queen Elizabeth II by Jody Clark.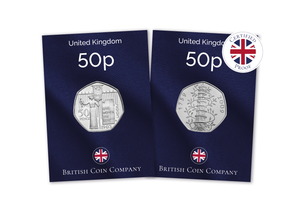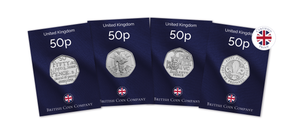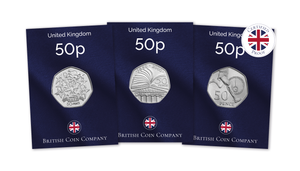 Ultimate Proof 50p Coin Collection
Why should you choose a Proof Coin? These coins are special because they are produced using a unique minting process, achieving a high level of detail on each design. 
Proof coins are not intended for general circulation or everyday transactions but are instead designed for coin collector enthusiasts. 
Unlike regular coins struck once, proof coins are often struck twice or multiple times using specially prepared dies and planchets (blank metal discs) to enhance their design details, giving them a sharp, well-defined appearance.
The coins are then polished to have a mirror-like finish, and the planchets are carefully handled to minimize imperfections. Proof coins tend to have a frosted or matte finish, in contrast with the mirrored background; this can further enhance the visual appeal of these coins.
They are usually produced in limited quantities, making them more exclusive and desirable to collectors.
You now have the opportunity to create your own Ultimate Proof Coin Collection – 78 coins released from 1971 to 2022, showcasing various unique design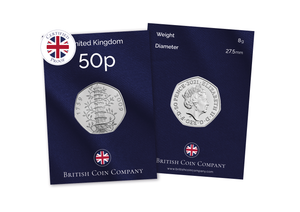 Interesting Facts
As a traditional British coin, the 50 pence has intrigued the general public and coin collectors for over fifty years. 
When it was first produced, the shape of the 50p coin was considered revolutionary as it consisted of an equilateral curve heptagon, making this design unique.
It's not just the original reverse designs that make these 50p coins significant. A select few of these coins have incredibly low circulation numbers, making them highly valuable to collectors.
Other 50p coin designs to look for include the Give Women the Vote coin, the Battle of Hastings 50p coin and the Public Libraries 50p coin.
Subscribe today Your first coin FREE.
Monthly Coin Collecting FAQ