GeorgeV Coin Designs
The George V sixpence from 1910 - 1936,
features King George V's portrait on the obverse and the reverse has a lion standing on the crown, showing Britain's role as a world power. From 1927 onwards, the coins have the oak leaf and acorn design - symbols of strength and stability. The weight of these coins is around 2.8g, and the diameter is 19 millimetres.
KingEdward VII Coin Designs
In 1902, the Edward VII sixpence was introduced by the Royal Mint, featuring a portrait of King Edward VII. It was struck in solid .925 sterling silver. The design features a wreath with a crown on the reverse, while the obverse features George William De Saulles portrait of King Edward VII. This coin weighs 2.83 grams and has a diameter of 19.50mm. It has a mintage of approximately 6,367,378 meaning it's quite valuable to add to your collection.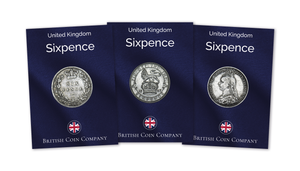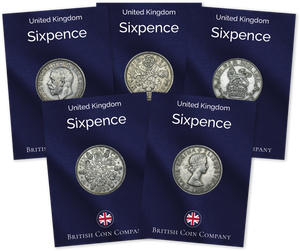 SixpenceCoin Collection 84 Coins
A sixpence coin was commonly used until 1971 when the British currency system was decimalised, and it was replaced by the decimal halfpenny coin. A sixpence coin is worth half a shilling and in decimalised currency, 1/40 of a pound sterling, or 2.5 new pence.

The sixpence was often referred to as tanner, perhaps named after John Sigismund Tanner (1705 - 1775) who was Chief Engraver of the Royal Mint during the reign of George II and who was the designer of a sixpence.

The design of a sixpence coin changed over the years, but it typically featured a portrait of the reigning monarch on one side and a design related to the coat of arms or other national symbols on the reverse.

There are various sixpence designs worth looking for. The sixpence coin dates back to pre-Victorian times, with the Tudor Sixpence being one of the original coins from this period. These coins feature the monarch's portrait on one side and a shield or other symbols on the reverse.

Some of the best coins to look for include the Victorian sixpence, Edwardian sixpence, George V and VI Designs, and even Elizabeth II designs.
Subscribe today Your first coin FREE.
Monthly Coin Collecting FAQ