The Proof Is in the 1p Coin
On the hunt for a valuable 1p coin? Proof 1p coins are an excellent choice! These striking coins have a distinct appearance and an exceptional level of detail. Proof coins are highly valued. The British 1p coin has had many designs over the years. Since its introduction in 1971 when currency became decimalised, the one-penny cash has had at least five portraits of Queen Elizabeth II, signifying her reign from 1953 until 2022.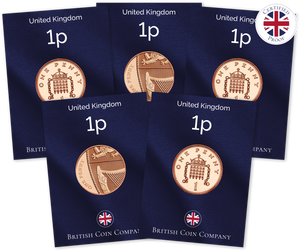 What is a Proof Coin?
A proof coin is a specially minted coin that's gone under specific treatment, along with extra polishing and handling while in the press. Each proof coin is struck several times to increase the detail and sharpness of the design. Proof coins are struck on specially polished planchets (blank coin discs), resulting in a smooth, mirror-like finish on the front and reverse sides of the coin. These limited-edition coins tend to have raised portions on the coin design, such as the portrait, inscriptions, and symbols, or they have a frosted or matte appearance. There tends to be a high contrast between the frosted design and
the mirror-like background on the coin. The Royal Mint usually issues proof coins, which may be available in various precious metals such as silver, gold, or platinum. Usually, they come packaged in protective capsules or presentation cases and are also presented with a
certificate of authenticity. At the British Coin Company, we offer Proof Coins from 1971 to the present date to add to your collection.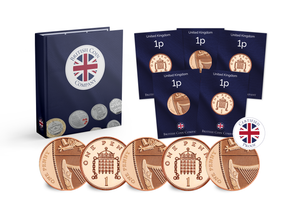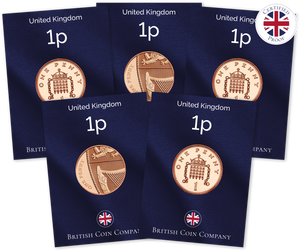 How Valuable are 1p Proof Coins?
Proof coins are considered highly valuable as they are scarce. The age and rarity of the proof coin sets are the two most significant indicators of their value.
The pre-twentieth-century Proof coins are the rarest as they hold historical value and fetch the highest prices overall at auction. The historical significance of older coins gives them prestige.
Start your subscription today YOUR FIRST COIN FREE.
Monthly Coin Collecting FAQ