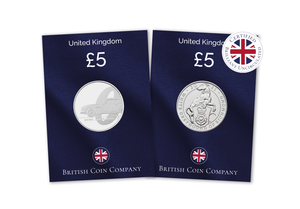 £5 Proof Coins

Proof coins showcase meticulous craftsmanship and artistry, as they are specially minted and mainly produced for collectors.

Proof Coins are unique because the minting process involves multiple strikes using specially polished dies with polished planchets (blank coins). The result is a coin with exceptionally sharp details and mirrored or frosted surfaces.

In the past 30 years, various proof coins have been released to commemorate British culture.
Complete Collection
At the British Coin Company, we have a limited number of 33
high-quality £5 proof coins for you to start collecting today! These coins were released from 1990 to 2022 and are symbolic reminders of Queen Elizabeth II's reign throughout the past 30 years.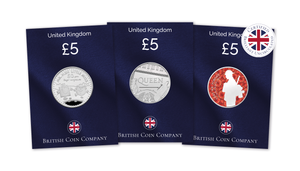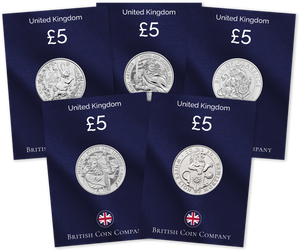 Other Proof £5 coins
The Royal Mint has
released various Royal related £5 proof coins over the years. Some
of the most significant coins to look for include the 1993 Gold Proof Five Pound crown coin, showcasing the 40th Anniversary of the Coronation.

This has a limited mintage of 2,500 and features a design by Robert Elderton, featuring St Edward's crown encircled by forty trumpets all within the inscription, 'FAITH AND TRUTH I WILL BEAR UNTO YOU' and the dates '1953 – 1993'.

Subscribe today Your first coin FREE.
Monthly Coin Collecting FAQ