Kew Gardens 50p
As the rarest commemorative coin, the Kew Gardens 50p is among the most iconic and
celebrated 50p coins.

It's considered rare as
this original 2009 design had a mintage of
just 210,000 when released into circulation. As it passed into private hands, the chances of finding one of these coins were considerably low. These coins are significantly more than their set value and are estimated to be worth £130-£180.
Commemorative 50p Coins
The 50p coin is commonly
chosen to showcase numerous events, including the 50th Anniversary of the NHS, the 50th Anniversary of the D-Day Landings and the 2012 Olympic Games.

You now have the chance to collect forty-six Commemorative Circulated 50p coins with a wide range of designs.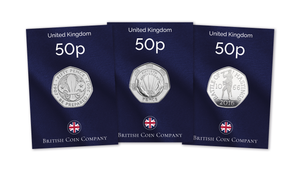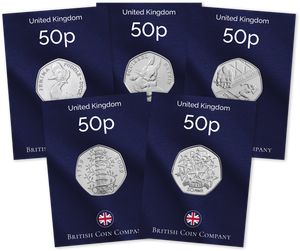 Peter Rabbit 50p Coin
The Beatrix Potter
commemorative coins are some of the most sought-after by collectors.

The Jemima Puddle-Duck 50p coin from 2016 can fetch the highest value of £8-£15 on online auction sites. This coin has a mintage of 2,100,000, making it the rarest of the five designs.

Other rare Peter Rabbit 50p coins include the 2018 Flopsy Bunny, with only 1.4 million minted; Tom Kitten, with just under 10 million coins minted; the Peter Rabbit 50p coin, with a mintage of 9.7 million, Mrs
Tiggy-Winkle, with over 8.8 million minted and Mr Jeremy Fisher 50p
coin with 9.9 million minted.

A few notable others include the Mrs Tittlemouse 50p coin with only 1.7 million minted, the Tailor of Gloucester 50p coin with only 3.9 million minted and the Squirrel Nutkin 50p coin with 5 million minted.

The last coin from the Beatrix Potter collection was the Peter Rabbit 50p coin, released in 2018, with reasonably low mintage numbers at only 1.4 million.

To honour the anniversary of Beatrix Potter's birth, 69 million of these 50p coins were minted in 2016. The Peter Rabbit 50p coin is 8g in weight and has a diameter of 27.30mm.

Subscribe today Your first coin FREE.
Monthly Coin Collecting FAQ