Image with text
The 20p Coin
The 20p coin is similar to the 50p coin as it's a seven-sided heptagon shape. On the reverse of the coin is a design by William Gardner that was used from 1982 to 2008, a crowned Tudor rose with the numeral "20" below the rose and TWENTY PENCE above the rose.

The 20p coin was redesigned in 2009 by Matthew Dent, and this version is still
in use.
Shining Prospects:
Hold on to your 20-pence coins! They might seem like small change but could hold much larger value than their appearances suggest.

If you choose brilliant uncirculated 20p coins, these coins are produced and maintained to a higher quality and therefore enjoy much greater value than coins in poor or average condition.

Brilliant Uncirculated coins retain their brilliance and lustre and are sometimes referred to as being in 'mint state'.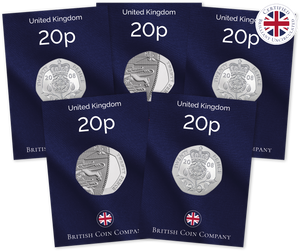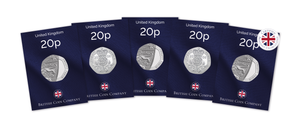 Aquatics 50p
20p Coins To Look For…
In 2008 the Royal Mint made a big mistake on some 20 pence coins; this means they could be worth at least £50 each!
These 20p coins are rare and valuable because they are the first coins without a date stamp to enter circulation in over 300 years.
On the obverse side of the coin, there is no date. This resulted in producing a mule, i.e. a version of the coin with a non-standard combination of obverse and reverse face designs.
Subscribe today Your first coin FREE.
Monthly Coin Collecting FAQ