What Is The £5 Coin?
Following the decimalisation of currency in 1971, the crown transformed into a commemorative twenty-five pence coin. However, creating a large coin with such a small value became prohibitively expensive, leading to the coin's discontinuation in 1981.

The recent introduction of
the £5 coin continues the legacy of the crown and has the same dimensions as its predecessor, as well as the five-shilling coin that preceded it. Crucially, the monetary value of the £5 coin is now twenty times greater.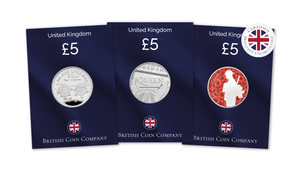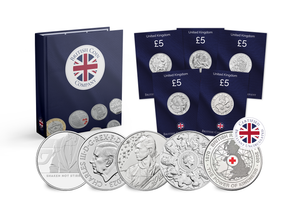 Discover Over 30 Years of £5 Coins
Want a special commemorative coin to add to your collection? The £5 coin is an important one to add to your coin collection as it's only issued for special occasions.

The £5 coin, traditionally minted to commemorate
Britain's Royal occasions, has not been commonly circulated.

Queen Elizabeth II's portrait adorned the coin between its inception in 1990 and her demise in 2022, featuring two different depictions during this period. A design by Ian Rank-Broadley introduced in 1998 served as the latest version.

Notably, the coin's reverse has no standardised appearance and is altered annually to mark significant events. As of October 2022, the coin displays the profile of King Charles III.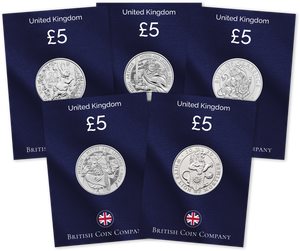 Interesting Facts
Every crown is authorised through the Royal Proclamation and complies with the guidelines laid out by the Coinage Act 1971, providing it with legal tender status like all other coins in general circulation.
The exchange of a piece may be challenging as its rarity results in many people desiring to hold onto their £5 coins. In recognition of this possibility, the bank does allow a certain number of crowns to be deposited into bank accounts.

It should be noted, however, that legal tender status does not obligate banks to accept the coins. As policies on accepting crowns vary, it is advised that you check with your bank in advance.
At the British Coin Company, we have a total of 111 £5 coins for
you to start collecting today! These coins were released from 1990 to
2022 and are symbolic reminders of Queen Elizabeth II's reign
throughout the past 30 years.
For just £5 you will receive one £5 coin and then if you subscribe for £99.99 a month thereafter, you'll receive five unique £5 coins to
add to your collection.
Subscribe today Your first coin FREE.
Monthly Coin Collecting FAQ